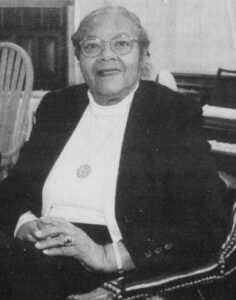 Miss Pauline Gordon was born on March 18, 1918, and was the fifth of eight children born to the late John M. and Ilai Valentine Gordon in Ochlocknee, Ga., where she spent her early childhood before moving with her family to Waycross, Ga. Her mother passed soon thereafter. Miss Gordon later joined many of her siblings in Duquesne, Pa., where they lived with their sister Mildred Gordon Jones and her husband, the late Henry C. Jones, a veteran officer of the Duquesne police force.
Miss Gordon completed her education and was graduated from Duquesne High School before going on to graduate from the Pittsburgh Institute of Mortuary Science. As a young teenager in Duquesne, Miss Gordon joined the Jerusalem Baptist Church in that city, and she maintained that affiliation throughout her life.
Soon after becoming a licensed mortician. Miss Gordon moved to Johnstown, where she established and operated The Gordon Mortuary for more than 55 years and continued to do so until the time of her passing. She was one of the early female trailblazers in the realm of mortuary science and inspired, encouraged and assisted generations of others in her own profession as well as in other fields of endeavor, due to her lifelong zeal for higher education, which was instilled in early childhood by her family.
Miss Gordon was a member of numerous professional associations, locally and nationally, from which she received countless awards and recognition for her unprecedented professional achievements and pioneering efforts. She particularly cherished her nearly 40-year-long lifetime membership in the NAACP. Miss Gordon was a beloved and admired beacon to her family which was enormously proud of her achievements.
(excerpted from her obituary, Johnstown Tribune-Democrat, March 7, 2003)
Newspaper articles related to Miss Gordon
Johnstown-tribune-democrat-Feb-17-1998-p-33
Johnstown-tribune-democrat-Feb-22-1998-p-13
Johnstown-tribune-democrat-Dec-30-1998-p-32
Johnstown-tribune-democrat-Mar-10-1999-p-5
Johnstown-tribune-democrat-May-26-2000-p-52
Johnstown-tribune-democrat-Jul-17-2002-p-0
Johnstown-tribune-democrat-Nov-10-2002-p-3 
Johnstown-tribune-democrat-Mar-06-2003-p-1
Johnstown-tribune-democrat-Mar-06-2003-p-4
Johnstown-tribune-democrat-Mar-07-2003-p-23
Johnstown-tribune-democrat-Mar-11-2003-p-8
Johnstown-tribune-democrat-Apr-11-2003-p-20
Johnstown-tribune-democrat-Jan-01-2007-p-33