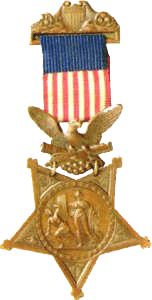 Civil War Medal of Honor
The Medal of Honor is the highest award bestowed by the U.S. Government. It is awarded to members of the Armed Forces who, "conspicuously by gallantry and intrepidity at the risk of his or her life above and beyond the call of duty while engaged in an action against an enemy of the United States. (Dept. of the Army, 2002)"
The following soldiers from Cambria County were awarded the Medal of Honor:
CAPEHART, CHARLES E.: Conemaugh Township, Major, 1st West Virginia Cavalry. Monterey Mountain, Pa., 4 July 1863. Citation given: 7 April 1898. While commanding the regiment, charged down the mountain side at midnight, in a heavy rain, upon the enemy's fleeing wagon train. Many wagons were captured and destroyed and many prisoners taken.
CAPEHART, HENRY: Johnstown, Colonel, 1st West Virginia Cavalry. Greenbrier River, W. Va., 22 May 1864. Citation given: 12 February 1895. Saved, under fire, the life of a drowning soldier.
FLANAGAN, AUGUSTIN: Sergeant, Company A, 55th Pennsylvania Cavalry. Chapins Farm, Va., 29 September 1864. Citation given: 6 April 1865. Gallantry in the charge on the enemy's works: rushing forward with the colors and calling upon the men to follow him; was severely wounded.
REED, GEORGE W.: Private, Company E, 11th Pennsylvania Cavalry. Weldon Railroad, Va., 21 August 1864. Citation given: 6 September 1864. Capture of flag of 24th North Carolina Volunteers (C.S.A.)
EVANS, THOMAS: Born in Wales. Private, Company D, 54th Pennsylvania Cavalry. Piedmont, Va., 5 June 1864. Citation given: 26 November 1864. Capture of flag of 45th Virginia (C.S.A.).
SHIEL (SHIELDS), JOHN: Cresson, Corporal, Company E, 90th Pennsylvania Infantry. Fredericksburg, Va., 13 December 1862. Citation given: 21 January 1897. Carried a dangerously wounded comrade into the Union lines, thereby preventing his capture by the enemy.
SNEDDEN, JAMES: Johnstown, Born in Scotland. Musician, Company E, 54th Pennsylvania Cavalry. Piedmont, Va., 5 June 1864. Citation given: 11 September 1897. Left his place in the rear, took the rifle of a disabled soldier, and fought through the remainder of the action