It was a typical March evening in the northern Cambria towns of Barnesboro and Spangler. Mines were letting out as the next shift was arriving. Nearby on the railroad tracks leading from Spangler to the Cambria Mines in Barnesboro you could see miners walking home.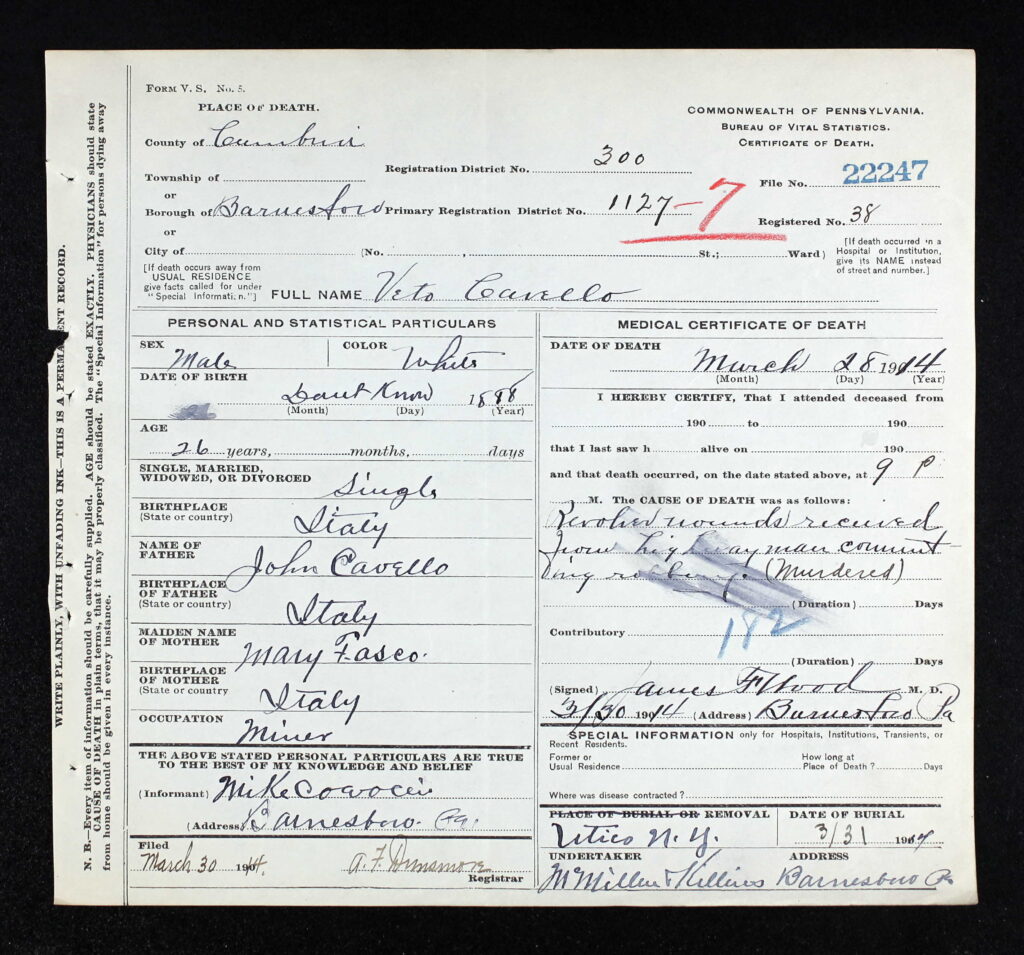 One of those miners, Veto Cavello, age 26, was heading to work. He probably didn't pay much attention to the five men who were also on the tracks that night. These five men were not miners however, but robbers, having already robbed several other men along the same tracks earlier.
When three of the men, Gaspar Martuanto, Thomas Chickerella, and Tony Ragusa happened upon Veto they attempted to rob him as well. Veto, in a struggle with the men, was shot several times and died, the date was March 28th. The three were quickly apprehended in Barnesboro and taken to the Cambria County Jail in Ebensburg.
After two months in the Cambria County jail, Martuanto, Chickerella, and Ragusa's trial was set to take place in June. One piece of evidence submitted was a confession made to the jail warden in which both defendants admitted therein that they were along the railroad on the evening of the robbery and murder and participated in other robberies in the area.

Gaspar Marturanto

Thomas Chickeralla leaving the
Ebensburg Jail

Thomas Chickerella
It didn't take the jury long to render a verdict, and on June 20, 1914, all three were convicted of first-degree felony murder (murder committed during the commission of a crime.) It is unknown what happened to Tony Ragusa, but Gaspar Martuanto and Thomas Chickerella were taken to the state correctional prison in Rockview, Centre County to await execution.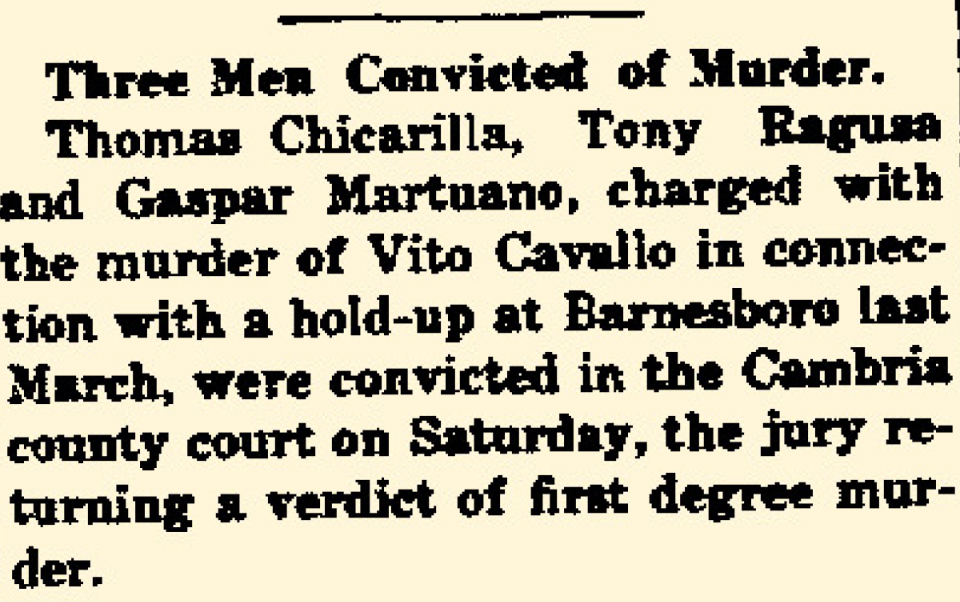 In 1915, while at Rockview, the attorneys for Chickerella and Marturanto filed an appeal to the Pennsylvania Supreme County disputing the verdict of first-degree murder and whether or not they should have been convicted of second-degree murder (Commonwealth v. Chickerella, 27 August 1915). Three arguments were made that mistakes were made that effected the lower court's ruling. After hearing the testimony of the attorneys, the Supreme Court, ruled that, "The three assignments of error are overruled, each judgement is affirmed, and the record is remitted for the purpose of execution."
Prior to 1913, the common form of state sanctioned execution in Pennsylvania was death by hanging. In 1915, Pennsylvania changed the method from hanging to electrocution by electric chair. On June 26, 1916, both Thomas Chickerella and Gaspar Marturanto were electrocuted being the 11th and 12th persons in Pennsylvania to be executed with this new method.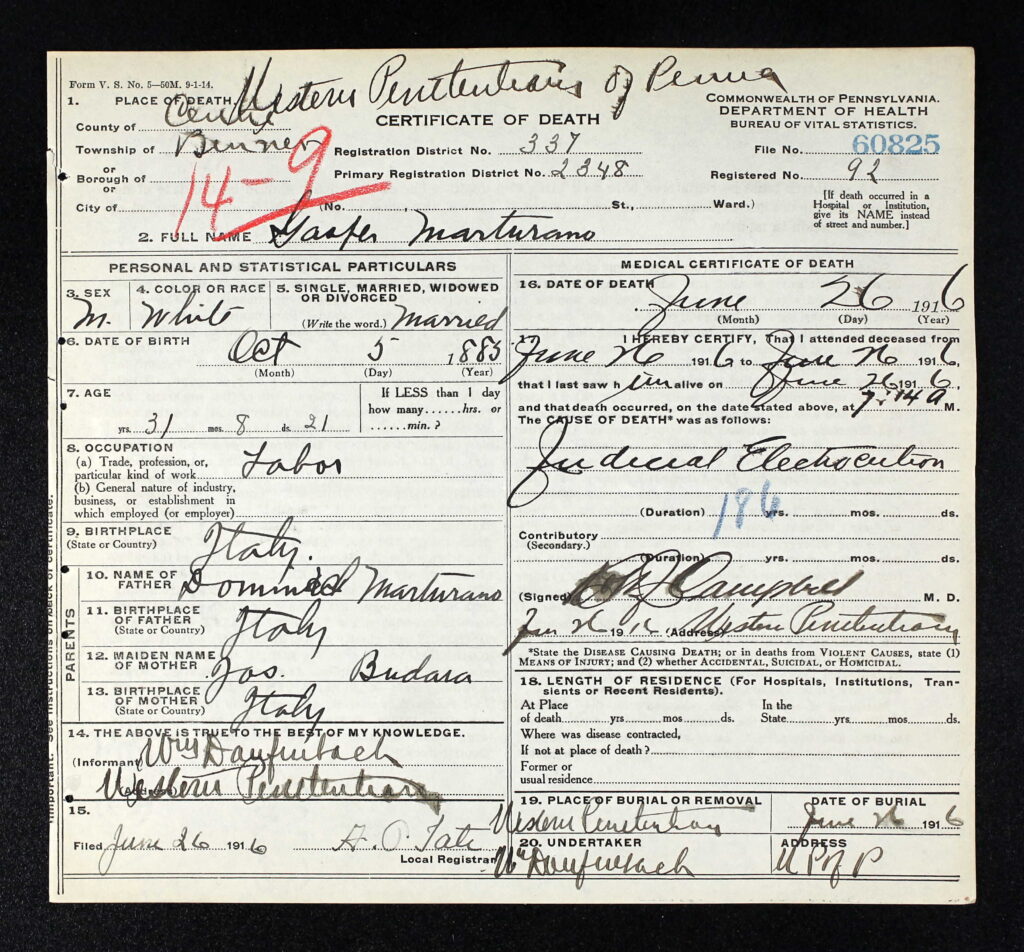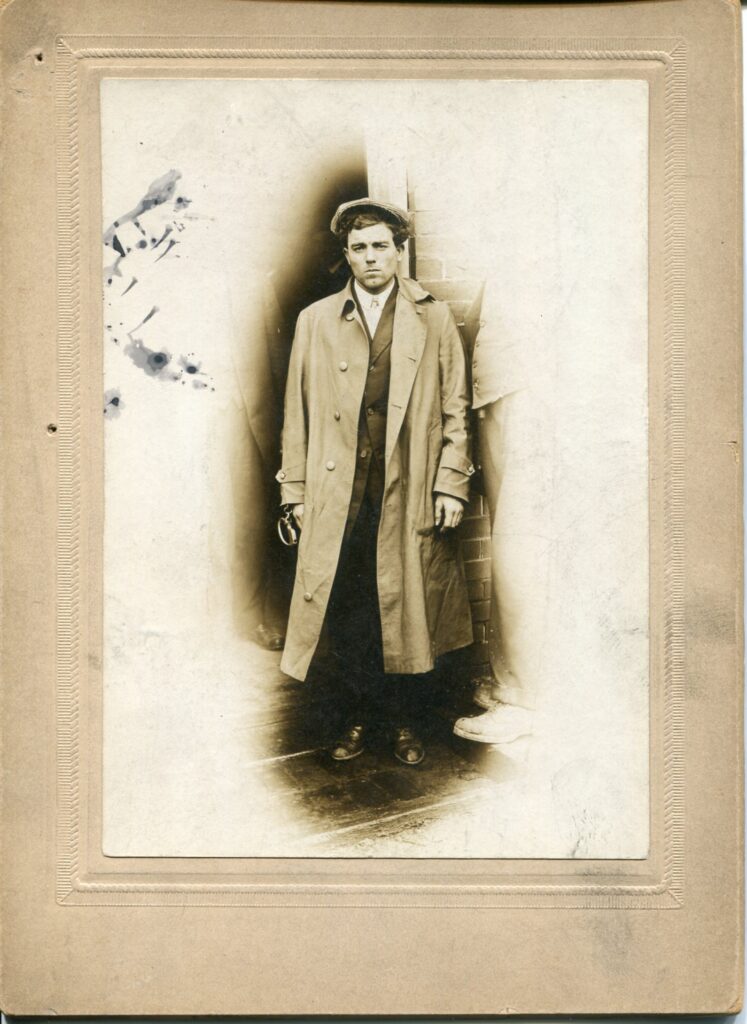 This photo is of Tony Ragusa, who was also convicted of first-degree murder. It is unknown what happened to him. There is no record of him being executed by the State of Pennsylvania.
Sources:
Schaffer, William I (1916). Pennsylvania state reports. Vol 251. https://www.google.com/books/
Photos. https://digitalarchives.powerlibrary.org/papd/islandora/object/papd%3Aacacc-noca