The Dal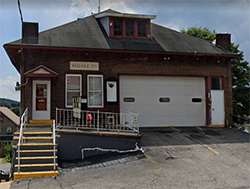 e Borough Historical Society meets every third Tuesday of each month at 6:30pm at the Dale Fire Hall, weather permitting or unless changed for other reasons such as special events.
We talk about Dale history, our lives and families in Dale and socialize! At times we have special programs such as speakers, displays and even pot luck suppers. We not only want to preserve the rich history of Dale, but hope to contribute, in some way, to creating a bright future for Dale and its residents.
Our present projects include:  Our Face Book Page – "Dale Borough History, Facts and Memories", the sale of Dale Raiders Shirts, Member surveys,  Oral History Interviews, Publishing newsletter for members, Scanning and digitizing members' pictures and other ephemera.  We will be housing selected memorabilia at our archives location at Penn Highland Community College Library. In addition, we will be displaying these materials at various events and meetings.
We are in the process of creating a comprehensive history of Dale and building a Dale History Web Page. We are also identifying historic buildings in Dale with plans to submit applications for Historic Designation for certain buildings with the Pennsylvania Museums and Historic Commission. Our goal is to attain 501c3 status for our organization so that we will have many paths for growing our organization and increasing the positive impact of our efforts. Please join our Society to help us accomplish our goals.
Categories of Membership: (Due in January each Calendar Year except for Life Membership) Check payable to  "DALE BOROUGH HISTORICAL SOCIETY".
 Individual     $10.00                       Individual Life Membership         $100.00
Couple           $15.00                       Couple Life Membership                $150.00
Benefactor   $35.00                       Business and Corporate                $200.00
(Benefactor, Business and Corporate includes one year's dues and donation)
Dale Historical Society Membership Form
_______________________________________________________________
The Benefits of a Historical Society
Borrowed from the Butts County Historical Society
"Those who fail to learn from history are doomed to repeat it." –George Santayana
An understanding of history serves us well. It provides us with a look at how inventions have changed the world around us, how different military strategies have brought success or failure, how belief systems and cultures shaped people and their behavior. It is the best tool we have to help us weigh our options and predict likely outcomes in the future.
However, history can also be boring and dry. Facts and figures don't hold the interest of most people. However, personal stories—that interests people. That's why reality tv is successful and human interest stories are so popular. Historical societies take the past of a time period, geographic area, or a cultural/ethic group and keep it alive. They will collect artifacts and antiques, documents, photographs, and other items of interest. They may also work to safeguard old buildings or architectural examples by restoring, preserving, and protecting them from demolition or excessive renovations. This helps to provide context for historical events—whether they were significant to the world at large or just to the focus of the society…
Most historical societies are small. They survive mostly on donations; many of the items and properties that are owned by historical societies are gifted or bequeathed to them. They also tend to be staffed by volunteers with no formal historical training and background; they often simply care about their history and put in the effort and energy to preserve it. If there are any staff, they are often part time.
However, this does not mean that your local historical society has no value. Just because many of the artifacts are donations does not mean that they are not of interest to the general public. While a large museum may not be concerned with the letters a small-town mother wrote to her soldier son during World War II, that family's hometown residents might find that they give an incredible look at what life was like during that time period—perhaps on their very own street. And that's something people are often more interested in, anyway. Putting a human face on something that otherwise is too large to really grasp.
Historical societies have been on a bit of a decline—creating attention often costs money, which they are often short on. However, things like the internet and social media have certainly helped bring more attention to them. It helps to connect the valuable work that they do with the people who would be interested in the information. Hopefully this trend will continue!